Chapter One: New Beginnings.
By: Chris Page
Writing Prompt: Yes
Date: 11th Nov 2021
Cocky. 
Realist. 
Manipulator.
Three words can describe the man that is poised to make his FIGHT in-ring debut Monday Night on Venom. Chris Page is the talk of the wrestling world from Mr. Warstein, Mr. Raven, The Ramseys, Old Riggs, and a shitload of others that really don't warrant a name drop. Some might downplay me while others might elude to me "big timing" them on several instances. To be perfectly honest, I don't  give two shits about the views or opinions or those that surround me. Never have. Never will. 
Why? 
Because it's your job to try and discredit or downplay whoever is standing across the ring from you. It's your job to do everything within your power to slay your opposition whilst making them rue the fucking day they crossed your path. I happen to be incredibly good at my fucking job as many of you are about to find out. Unlike most of you, hypocrisy doesn't run through these veins.
It's a Thursday afternoon in the "big apple" on a brisk and chilly day. The cool air and cold nature don't stop the sheer busy nature New York City brings as the overcast skies tell the story of a storm brewing off in the distance. We catch up with Chris Page in the back of a limo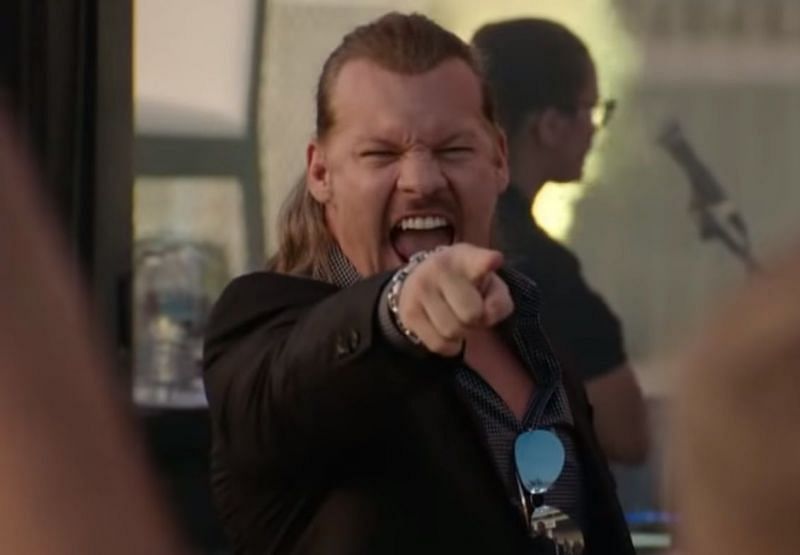 With his FIGHT debut looming around the corner coupled with the launch of CCP Enterprises, signing talent to his brand all while playing the Ramsey's like a goddamn fiddle it is fairly safe to say that his time is valuable. We join Chris who is currently on a call with one Thaddeus Duke.
CHRIS PAGE: I wouldn't put a whole lot of thought into all of that brother, your deal on Wednesday is a formality. It gets you back in the ring, dusting yourself off before taking back that Supercontinental Championship. Seeing Thad without gold around his waist or over his shoulder is like a world without sunshine.
The relationship between Thaddeus and Chris Page is one that has shocked many people throughout the profession since Thad came forth as the first signing of the CCP Enterprise brand. Two men did battle for nearly nine months, culminating with Chris winning the Universal Championship in a land not so far away back at the beginning of the year. Mutual respect was born amidst these epic encounters.
CHRIS PAGE: I'm in New York today looking at some office space. I figure since FIGHT is where I'll conduct my wrestling business it makes sense to grab some space to set up shop. Thad, when I tell you how many people are inquiring about this venture the last thing I'm doing is blowing smoke. You're my crown jewel, the first official signee, and we're not done.
You're never done when your name is Chris Page. The wheels are constantly spinning, moves are always being made with each having a specific purpose. Take what happened in the streets at the Tower for example with Austin Ramsey and the biggest chump to hold gold on this roster in Todrick. Do you really think there's no method to be willing to take a punch? To being attacked and outnumbered? Surely none of you are that foolish. Maybe you are.
CHRIS PAGE: Clearly in regards to the XWF we've talked about the next move. Now it's time to act upon it."
I believe it's safe to say that CCP Enterprises is about to grow because one is such a lonely number… but there wouldn't be one if there wasn't more to follow. One thing I want all of you that are unfamiliar with me to fully comprehend when it comes to me, I don't make empty threats or false promises. I exploit every facet of the game from controlling an audience to manipulating my opponents. You're not in the wrestling business for thirty years if you don't know what the fuck you're doing. 
I'm a realist who not only looks at the box everyone lives in… I think outside it. 
I find a way to attain the goals I've set forth for myself regardless if it takes weeks, months, or years. Persistence is a trait that seemingly doesn't exist amongst the younger generation. If they don't get what they want they'll cry about it as opposed to finding another way to reach that specific goal. 
CHRIS PAGE: I hear you one hundred percent. Not only will they be a phenomenal fit, the more gold that comes onboard only lends that much more credibility to the bigger picture we are going to be painting.
The limo pulls up to a large skyscraper on the west side of Manhattan. Chris takes a look at the building from the inside of the limo.
CHRIS PAGE: Listen, I just got to this spot to check out. I'll touch bases with you in a bit.
Chris ends the call with Thaddeus as he slides his cell into the inner pocket of his sport coat. He opens the door and exits out to the sidewalk where he dusts off the shoulders of his coat where he starts to make his way towards the massive exterior doors leading into the building. He's greeted immediately by the realtor for this space, Amber Loxley. 
AMBER LOXLEY: You must be Mr. Page.
Amber, in a professional garb with a smile that lights up a room, extends her hand towards Chris who naturally reaches out shaking it.
AMBER LOXLEY: I'm Amber, it's so good to finally meet you. I feel like we've been playing phone tag for weeks.
They release their grip and finally hands. 
CHRIS PAGE: I know right. It's been a tough little stretch for me… I've been in the middle of the ocean to Athens, Greece, and all points in between it seems. I'm really excited to see the space.
AMBER LOXLEY: By all means let's go.
Amber starts to lead Chris across a luxurious lobby towards the elevators as she asks.
AMBER LOXLEY: If memory serves you're down in Florida, right?
CHRIS PAGE: Yes mam.
They reach the elevators as she pushes the "up" arrow. 
AMBER LOXLEY: What's bringing you to New York, if you don't mind me asking?
CHRIS PAGE: I'll be spending a lot of time here for the foreseeable future, and as a part of that I'm in the process of opening my own management company; a sports agency if you will.
A sports agency that is specific to the professional wrestling market. A wealth of knowledge and experience is something I bring to the table. I know the sacrifices that need to be made if you're going to elevate yourself to LEGENDARY or even ICONIC levels. Make no mistakes about it, there's plenty of talented guys and gals in the sport today making names for themselves to which I applaud. I'm more invested in those who embrace the knowledge that within this business you can make friends, or you can make money. Your choice.
CHRIS PAGE: While I'll be back and forth to Florida I need a good base of operations here.
The elevator reaches the ground floor before the doors open up. They step inside where Amber hits the number 23. The doors close as the sounds of light jazz are heard playing over the speakers. 
AMBER LOXLEY: You've called the right agency to get you set up. I think you're going to love this space as it fits all the criteria we've discussed on the phone. You have all the bells and whistles that will be sure to "wow" any respective or potential clients. This is the place to be. The offices are located on the twenty-third floor with a panoramic view of Manhattan.
CHRIS PAGE: Sounds lovely.
What's lovely about all of this revolves around the meticulous planning involved, the networking amongst a who's who of talent ranging from many prominent federations. I'm fully aware that most of you probably look in my direction wondering why all the hype? It's simple, where ever Chris Page goes magic seems to follow. Take the Xtreme Wrestling Federation as an example; here's a place that was on fucking life support before everyone's favorite GOAT reached out in my direction. Not only do I show up, I single-handedly carried the organization from 2019 through September of this year. 
The proof is out there if you bother to seek it.
Look at what was going on versus what I am doing, it's plain to see the level of intelligence on display from day one through my final night. 
CHRIS PAGE: Is the option to own versus lease in the equation?
AMBER LOXLEY: It is always an option, while everything is typically leased I can always inquire with the owner.
CHRIS PAGE: Please do.
We reach the twenty-third floor as the elevator comes to a stop. The doors open up into a very inviting lobby which displays a large receptionist desk, empty of course. The tile work is exquisite, the views are breathtaking as far as the eyes can see. Chris takes it all in as the only words that escape the tip of his tongue is.
CHRIS PAGE: Incredible, just wow.
AMBER LOXLEY: The wow factor is certainly in full effect. Follow me, let me show you around.
The space is set in a circular style setting. As they begin to walk through the space Amber begins to her spiel. 
AMBER LOXLEY: As you can see once you get past the receptionist desk you have several nice-sized offices to the right with the conference room here to your left. 
Chris stops to admire the sizes of the offices and conference room.
AMBER LOXLEY: There's a state-of-the-art sound system in every office and the conference room, you've got locations for mounting televisions, any and everything you're looking for is right here.
There's a sly smirk that graces Chris's face as the endless possibilities start dancing through his head while they continue the door through the conference room which has three entrances. They enter through one set of doors and out another where the centerpiece office rests. There's a perfect view of FIGHT NYC'S TOWER as well as the Velvet Rabbit not too far off in the distance. 
AMBER LOXLEY: This will end up being your office if you take the space. 
The office is almost as big as my ego; which let's face it, has its own area code. It's broken off into two sections with mirrors instead of walls, a private bathroom with a shower. 
AMBER LOXLEY: So, what do you think?
CHRIS PAGE: I love it… but… it might be a little smaller for my bigger picture.
AMBER LOXLEY: I'd thought you might say that, which is why the owner of the building has agreed to lease out two floors if you're interested. The twenty-second and twenty-third floors are both available, and if leased she's prepared to offer you a better deal.
CHRIS PAGE: She?
Chris asks.
AMBER LOXLEY: Yeah, she. Anicka Swan is the owner of the building.
CHRIS PAGE: I'm not familiar with her. 
AMBER LOXLEY: She's more than familiar with you, apparently. When I informed her you were my client coming to check the place out she wanted to be here herself to meet with you. She said something about being a fan.
Yes, I have fans. They're called "smart fans" that can see through the typical bullshit while understanding that there are a few of us out here that can stand the test of time. I'm one of those select few. I've battled with the best of the best and beaten the best of the best… even at fifty years old.  So when I sit back and see guys like Austin Ramsey or his lame fucking she-thing Todrick Ramsey legit trolling my age only makes what happens to BOTH of them on Venom that much more satisfying for me. Austin is a chump that can't string together a series of wins if his life depended on it that's better off suited in a straightjacket surrounded by padded fucking walls than being in a wrestling ring. 
I wanted Todrick, yet I've been dealt the lesser of the Ramseys. 
Had I known Austin's bitch was going to throw him in front of me to lend him credibility as well I would have negotiated a better deal for this appearance. Good thing I can make chicken salad outta chicken shit.
CHRIS PAGE: Everyone's a fan in some form or fashion.
AMBER LOXLEY: She's even gone so far as to offer you the Penthouse Apartment located on the top floor at an incredible price. 
Amber and Chris stroll back around to the empty receptionist desk where Amber places her work satchel on the marble desktop. She opens it and removes a file folder, sliding it across over towards Chris who leans down, resting his elbows on the desktop. 
He reaches over sliding the folder in front of him. 
He opens it to see a contract already drawn up. 
He reaches over the documents as Amber chimes back in.
AMBER LOXLEY: Mr. Page as you can see I've taken the liberty is breaking down the contract into three sections; one floor, you have a two-floor option, and the final option is for all three floors. 
CHRIS PAGE: I see that.
AMBER LOXLEY: Location doesn't get any better for your line of work. You've got the FIGHT tower, the Velvet Rabbit, security and privacy are a top priority, and you're not the professional athlete that is utilizing the space. 
Chris cuts his eyes towards Amber, left eyebrow cocked. 
AMBER LOXLEY: While I'm not at liberty to say who, discretion is key. 
CHRIS PAGE: Hmm.
Chris shifts his eyes back over to the documents in front of him. If he signs this there's no going back. The next venture within his career will begin. Some people might look at this as a pipe dream, but those people haven't networked like I've networked. They've got no clue who I've had meetings with or who is next client to CCP Enterprises is going to be. Trust the words that are being spoken that the world is a much bigger place than FIGHT NYC. Chris Page didn't come to FIGHT for the accolades…
For he is playing a much bigger game. 
CHRIS PAGE: Got a pen?
She smiles at Chris before reaching back into her bag procuring a pen before handing it to Chris.
CHRIS PAGE: I'll take the two floors plus the penthouse with twelve months upfront. 
Chris puts pen to contract before closing the file, sliding it back over to Amber. 
AMBER LOXLEY: Welcome to New York. 
Chris and Amber are interrupted by the sounds of Chris's phone ringing. 
CHRIS PAGE: Excuse me.
Chris reaches into the inner pocket of his sportcoat where he retrieves his cell. He looks at the number calling in; a New York area code, not stored in his phone yet recognizable. He hits the talk button before placing it to his ear. 
CHRIS PAGE: Yeah?
He holds up the index finger of his left hand while excusing himself. Amber nods as she pulls out her phone and starts texting. 
CHRIS PAGE: Speaking. 
Chris listens for a moment at the voice on the other end before he responds. 
CHRIS PAGE: I'm sure by now you listened to the message and know exactly why I called. I've been watching you over the years, and brother, you lost your edge. Don't hang up, hear me out because I'm the guy that can bring it back. You're the guy that knows it or else you wouldn't have called back. The fact that you did, tells me what I've had to say struck a nerve because I'm right. 
Sometimes manipulation isn't the best course of action. At times the truth strikes more to the core when you're dealing with someone that appears to be like-minded. Everything in business is a risk, it takes balls to shoot from the hip.
CHRIS PAGE: If you really want to rewrite your story you'll find some time and meet me. 
Chris listens for another few seconds before answering. 
CHRIS PAGE: Funny you should ask. I just signed paperwork in Manhattan, headed to the Rabbit shortly then back to Tampa, or I might hang out here until Monday. I have a business to tend to involve a certain Ramsey.
Another listen from Page who quickly responds.
CHRIS PAGE: No, the bartender one.
Chris looks out the massive glass windows in the direction of FIGHT Tower. 
CHRIS PAGE: If you want to link up, and hear me out, I've got some ideas that will be mutually beneficial. The ball is in your court.
Chris ends the call where he slides the phone back into the inner pocket of his sport coat before turning back around redirecting his attention towards Amber who lowers her phone glancing across at Chris. 
CHRIS PAGE: So, when do I move in?
AMBER LOXLEY: Saturday.
A smile and a nod from Chris before he turns back out looking out the windows at FIGHT Tower. The smile that was on his face turned into a scour. 
CHRIS PAGE: Game on, Fight.
… TO BE CONTINUED.
Words from the Stoned One:
This is the moment you've all been waiting for since that fateful night aboard the Tara Fenix Charity Cruise where the entire foundation of FIGHT! NYC shook to its core as I stood in the middle of the ring as I made my intentions known. I'm sure you've heard the haters, right? I mean, who hasn't? The crying babies of the New Status Quo to even members within the ranks of the XWF have all acknowledged my presence all way up to the so-called "people's goat" himself. What's that tell you? I mean, I know what it should tell you but I don't expect intelligence to be a thing amongst the younger generation, and I'll allow you to draw your conclusions so that you may bury yourselves further in that abyss you all know as obscurity. My name is "Chronic" Chris Page and my reputation within this business as being one of the marquee attractions for thirty years is more than intact should you elect to do your research. I have won every major championship around the world if my name has been attached to its roster, the performances are unmatched but the most important thing with me… I draw goddamn money. When I graced the ring aboard the TFCC on Venom the entire game changed for FIGHT, and much like I stated then I'm reiterating here now, I'm not here for your Championships… I've got more than enough to back my play, but I'm not opposed to taking them if the pricks occupying the spots choose to step to me for I'm not a desperate piece of talent who needs to look for opportunities when they always find a way to present themselves. I am the piece the talent that your champions are going to gun for when I am through with this meaningless introduction because I am every bit as goddamn gifted as I profess to be. I'm fully aware that it's never ideal to rest on your past to dictate your present, and in this situation isn't going to be any different because you know my credentials based off on word of mouth but now the time comes for you all to see for yourselves what Chris Page is all about. 
"Every new beginning starts with another beginning's end."
Never have those words sparked more truth than they do here and now. I could hide from the fact that my XWF career was ended back in September at Relentless, but when one door closes another door opens. FIGHT snatched me up as quickly as they could. Why wouldn't they? I have a following that most don't. They ponied up the dough and alas here I stand. These last few weeks have been more than entertaining sitting back and watching shit unfold, listening to roster members that have no goddamn clue who I am, listening to them put their respective feet in their mouths with all verbal diarrhea that spills out from the tips of their tongues; and while I've spoken to you all about my intentions, I've spoken on why I'm here as well as the goals that I wanted to attain. Two weeks later I'm left scratching my head wondering if I have FIGHT all wrong because surely these kids aren't that one dimensional to think I haven't heard every old man reference you could think of, yet here I sit watching fuckboys like Austin or Todrick Ramsey is so creative to spit the same shit everyone else has spat for years AND still get their asses served faster than a cheap whore walking the streets of Times Square. It's as if they fell out of the creativity tree and missed every goddamn branch on the way down. Yes, ladies and gentlemen, I am fifty-one years old that can run circles around the youth movement that's taken our sport by storm, and yet you fools are deluded and dumb enough to think that you're doing something groundbreaking. Get the fuck outta here! You can't be serious. Now that we've covered the hot topic of conversation surrounding the whole "age" thing I believe it's safe to say we've taken the ammunition out of that pee-shooter Austin Ramsey has trying to fire off ever since being labeled the weaker Ramsey. I say that, and while it may or may not have been saying before; personally don't give a flying fuck, this dude hasn't been about shit since a quarter till never when it comes to playing professional wrestler over stripper over reality television or barkeep whatever the fuck he has going for himself. His wrestling game is about as weak as his Twitter game when you take a look at what he's accomplished here in FIGHT. Say Austin, how many matches have you won? Based on the minimal research I bothered to give you wrestling doesn't seem to be your thing, brother. Loss after loss after loss after loss… NO WONDER you have to moonlight as a goddamn "buck" and rely on trash "tv" to make a fucking living!
Or is that where Todrick comes in? Not sure. 
What I didn't realize is that my words had so much power over you speaking in a segment that had nothing to do with you. Is this how your relationship is? Do you always feel the need to try and step in on your boos' behalf? Which is it? To me, you look like a desperate man looking grasping at straws while slowly starting to realize just how far in over your head you've found yourself in. Something else I am sure of is there's a better chance of hell freezing over than you have at standing in the ring with me while coming out with that arm raised in victory. Is this the part where "wins" doesn't matter? Save all the excuses for being a piss-poor professional wrestler for anyone else that will halfway believe you have what it takes to stand toe to toe, move for move, hold for hold with someone the stature of a Chris Page when you can't beat some skirt named Lisa! This is a reality check for you Mr. Austin Ramsey because when I'm done mopping the mat with your pretty little face, and you have to not only look that husband, wife, whatever Toddy is in the face you're going to have to look yourself in the mirror to see that continued fucking failure staring right back at you. What's super sad when it comes to you, baby boy, it rests within the fact that you think that you're entertaining when anyone that's had to sit through one of your promotional packages can attest it's the equivalent of watching paint dry! 
You were never a part of my plan. 
You've never been on my radar. You never will. 
You got mad when I referred to you as a cakewalk, and furious over the message I sent to Todrick aboard that cruise. My actions versus your husband were warranted while his interruption was not. You want to talk about disrespect; disrespecting someone is stepping on someone else time to promote yourself. Let's talk about my words that have seemingly butt-hurt you more than some of your exes. Why are you so offended when all I did was speak the truth? Divert back to that impressive record of yours for further validation of that statement. You can't stand here and pretend that you didn't insert yourself into this equation, not for Todrick's sake; and certainly not because you care, while that MIGHT be a piece of it. You jumped on board this train because you saw the reactions, you know the reputation, and you see yourself getting that rub from one of the greatest of all time just by being able to say you had the first match of Chris Page within FIGHT NYC. Just admit you are a fanboy that despises the fact he's in the shadows so we can all move on. I can't help that people throw my name around on Twitter or in the locker room. It's not my fault that when I am in the ring I deliver the match of the night time after time, night after night, year after year, against younger opponents just like you that think they are going to be my kryptonite. Sorry kid, that's just not in the cards for you. 
This cuck suffers from multiple personalities. 
Jesus Christ, another one. 
You sure know how to pick 'em, Toddy.
I'll bottom line all of that with this… everyone has a "beast" or a "monster" that rests within their core. You're just dumb enough to pay a shrink to listen to your session after a session when I can solve your problem here and now. EMBRACE it. Stop pretending to be something you're not, stop trying to fit into what OTHERS want you to be, and start focusing on what YOU want to be. You give too many fucks about what those close to you think that it's driven you to THIS point. You don't scare anybody, sir. You look like a fool for stuffing yourself inside pandora's box. You can bring all the Austin's and your chances of victory remain the fucking same… slim and none. I've allowed you and the rest of the sheep to assume, I've allowed you to have your fun as keyboard warriors as you rally your allies spinning whatever narrative you think makes you look noble, like a caring guy knowing that the moment that bell tolls you're a terrible hand that couldn't back his play if his life depended on it.
Fucker couldn't even get the drop on me correctly! 
You're a funny guy, Austin. 
Seeing you standing in my way while leaving the Tower last week on Venom while trying to sound all tough and shit when if you wanted to prove how much of a man you are. Not only did you try your hand… you failed. You let a fifty-one-year-old man nearly choke you out AFTER giving you a free shot. Let's talk about that for just a second. First, you hit like a bitch. Second, why would I willingly lean in and allow you that? Hmm, did it ever cross your mind while you were lashing out in an emotional fit that it was a little odd I didn't bother to defend myself until after you swung? I often use the term chess not checkers when it comes to the game we're about to play, I profess that I am five moves ahead of the rest; your actions on Venom were you falling right where I wanted you to. How did that end for you? What would have happened had the only thing that makes YOU relevant not shown up to save you, again? I was enjoying watching the color fade from your face, your pupils started to dwindle before we were so rudely interrupted. I want you to do us both a favor by bringing Toddrick with you to Venom. I want him to have the best view in the house as I officially introduce myself to the FIGHT viewing audience in the ring where it matters, gutting the man he loves while he is powerless to do anything about it. You will be used as an example that shall be set by yours truly, and when this thing is all said and done you'll be the fuckboy that's eating his words while I'll be adding some of this "blood money" to my account. 
… not that I'd even fucking use it. 
I am here for but just one reason… add to my already extensive resume of those that have fallen to Chris Page.
In closing, I'll leave you all with these parting words. 
There are those out there who talk about it… and then there are guys like me who be about it. What you're all going to bear witness to on Venom is exactly what happens when you think you're cool enough to box with God. I pride myself on teaching young fools like the Ramsey's that the fantasy worlds they want to live in just don't jive in the real world where everyone else does. The fact that this is oh so personal to you at this point, Austin, only means I've got you exactly where I want you.
… In the palm of my hand.
Keep playing on your emotional state, not even it can carry the lesser Ramsey to victory. Not this week, not any week. The sooner you face the fact that the only reason your name means anything is that that same last name is attached to Todrick. He carries you in wrestling, he carries you on television, he bails you out on Twitter. You aren't man enough to make your name in any business, and come to Venom I will further establish exactly why losing to Chris Page doesn't mean that you suck… It just makes you everyone else. 
It's closing time for you, Austin Ramsey.
… FUCK it just hit me! 
I know why you're an overreacting cunt. 
You're still playing kiss ass after sticking your dick elsewhere roughly a year ago. Oh yeah, I went there. 
Emotions; they're always a real funny thing, aren't they?