The HAPPY LUV Variety Show (Pre Fight NYC Signing)
By: Alice Knight
Writing Prompt: No
Date: 10th Nov 2021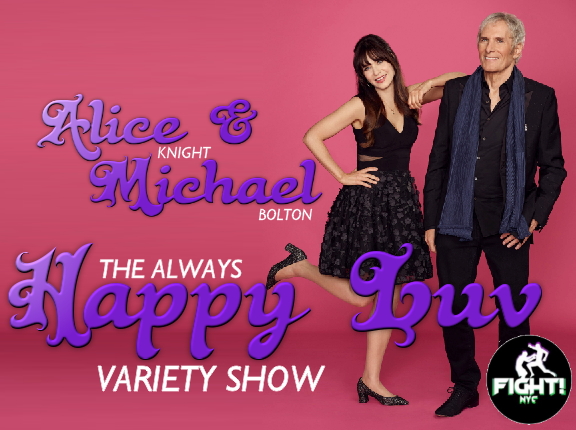 IT'S TIME FOR THE ALWAYS HAPPY LUV VARIETY SHOW WITH YOUR HOSTS, THE NIGHT OWL, ALICE KNIGHT AND MUSIC SENSATION MICHAEL BOLTON!!!
The small crowd applauds as Michael Bolton and Alice Knight strut out to a funky riff of Chattanooga Choo Choo!. They are both holding microphones. They begin singing.
Alice: Aw, pardon me, boy…
Michael Bolton: Yeeeeas yes!
Alice: Is that the Chattanooga Choo Choo!.
Michael Bolton: Ooooh Track twenty-nine
Alice: Boy, you can gimme a shine
Michael Bolton: Can you afford To board a Chattanooga choo choo
Alice: I've got my fare And just a trifle to spare
Michael Bolton: You leave the Pennsylvania Station 'bout a quarter to four… Read a magazine and then you're in Baltimore
Alice: Dinner in the diner?… Nothing could be finer
Alice & Michael: Then to have your ham an' eggs in Carolina
Alice: When you hear the whistle blowin' eight to the bar
Michael Bolton: Then you know that Tennessee is not very far
Alice: Shovel all the coal in … Gotta keep it rollin'
Alice & Michael: Woo, woo, Chattanooga there you are…
Alice begins to tap dancing as Michael Bolton snaps his fingers to the musical beat.
Crowd Member: THIS SONG BLOWS!
Crowd Member: YEAH TURN UP THE GOOD AND TURN DOWN THE SUCK!
Alice: What the hell is up your asses, OH I outtah!!!
Alice shouts at the crowd andstops dancing and goes to attack the two men. But before she gets there, Michael Bolton holds her back.
The feed cuts to a title card with a truck tire saying "WHEEL BE RIGHT BACK!"
-BACKSTAGE-
Alice is getting her hair fixed by the shows stylist.
Alice: Ungrateful people sometimes, ya know? I seriously hope my resume goes through at FIGHT New York City.  This TV stuff is getting lame.
Stylist: You getting back in the ring, Alice?
Alice: Yep! If everything goes through. It's this bad ass place based in New York. Best of the best talent. I mean the elite of wrestlers. Peeps like Betsy Granger, Shawn Warstein, Dickie Watson, Tara Fennix, Chris Page and of course James Raven. If I can get on this roster at this state of booming business. The eyes will be all over me. My little hooter fans. The fans that respect and love me. Unlike the fans that show up for these kind of well written and very hilarious comedy variety shows. These fans are jerks…
A stage hand comes out with a BEE costume.
Stage Hand: Do you want bigger or smaller wings for the Giant Bee Sketch, Alice?
Alice thinks.
Alice: Hmmm… bigger. Way bigger. Like you're going to think its TOO big, but it still won't be BIG enough. Very large, huge, BIG BEE WINGS! Big is funny. Get it done boy…
He walks out of the room bumping into an intoxicated Michael Bolton, drinking straight out of a Jack Daniels bottle.
Michael Bolton: I am ready to sing, Alice. Let's get back out there…
Alice: You are drunk, Michael. Again? Seriously. Rehearsals were bad enough with you snorting blow every 12 minutes. Now… you are hammered.
Michael Bolton: I may be hammered but I am not drunk.
The director enters the room.
Director: Let's get back out there, gang.
Alice(under her breath): Get back to me FIGHT! Damn it.
Alice rolls her eyes as Michael Bolton staggers behind the director. Alice checks her phone… no new messages. She sighs.
We fade in to a shot of Michael Bolton on the piano as Alice stands next to it all smiles the both of them.
Alice: Wow, Michael. You are truly a great musician and artist. How do you come up with these wonderful love songs that everyone adores?
Michael Boltn(burps): Well… Alice. I'll tell you. The song When A  Man Loves A Woman… i played this song one night at Madison Squared Garden… I was drunk… really drunk… and well, driving down a long dark, things get crazy. You hit things. Like raccoons, skunks, hell once i hit this kid. I got out of there pretty fast as you might believe. Haha. Good times.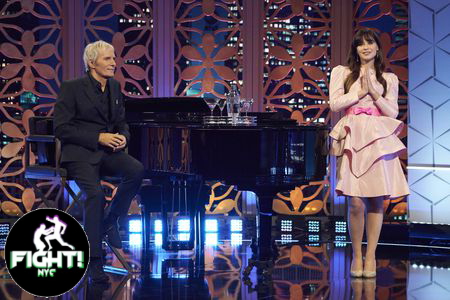 Alice: Um, Michael I don't think this is appropriate for the show right now, don't you think? I'll change the subject and tell the crowd how to make your own special mustard. You need lots of fertilizer and turpentine. Basically the same ingredients as a home made pipe bomb and then…
Michael Bolton(interrupting): When I wrote How Am I Supposed To Live Without You… i wrote it on bath salts watching hardcore barely legal porno. And my bizarre and my downright dangerous habits of disgustingly sexy porno helped me win the Grammy.
Alice does the 'cut the feed' with her hands to the camera as Michael Bolton chugs down his bottle.
Alice: Can we take a break… please…
Michael Bolton stands up and holds his back.
Michael Bolton: NO! ALICE! YOU DO NOT CUT ME OUT! I MAY HAVE TORE SOME STITCHES!!!
He collapses the ground knocking over a light.
CUTS TO A BUMBLE BEE WITH THE WORDS "WE'LL BEE RIGHT BACK!"
BACKSTAGE
We see Michael Bolton laying on the green rooms couch holding his back with a bunch of cocaine powder under his nose.
Alice checks her phone. Still nothing. Stagehand looks over Michael and looks at Alice.
Stagehand: Should we call an ambulance? I don't think he can continue.
Alice: No, don't bother. This show is doomed.
She grabs the bottle of Jack Daniels and begins chugging it down making a mess all over her dress and the floor carpet.
Alice: But I am a professional. And NOT a flake. I am going to finish this gig with honor and respect.
Stagehand: Do you want the fart machine for the next bit?
Alice takes another chug and rushes out of the room.
Stagehand: What about the bee costume?
THE ALWAYS HAPPY LUV VARIETY SHOW IS BACK
The show returns as the stage is set up with fake long grass and giant flowers.
BIZZZZZZZZZZZZZZZZZZZZZZ!
Alice comes out with her arms spread wide, holding on to the bottle of whiskey in one hand and in the other her cell phone. She is making bee noises but no costume. The crowd watches silently as Alice begins kicking over fake flowers and grass made of cardboard.
Alice: What? You like it when things go wrong for poor Alice Knight? Or do you even care? The wrestling world, where I came from, cares. They love my hooters… my owls. They love when I say HOOT! HOOT! HOOT! Eh? You shit heads. Iiiii… make mustard as a side deal for those who can't afford it and for those who don't have taste buds no more. I am a wrestling legend. A wrestling face to some companies. I am the real deal. BUT NOOOOOOOO! Fight in NEW YORK, where I am from by the way, won't get back to me… NOOOOOO! I am not as good as Kasey WInterborn and Dane Preston… NOOOOO! Ol' Alice isn't needed. Isn't wanted in the major wrestling companies… I don't even care…
Alice calls on her butt as the crowd awkwardly leave the studio as she chugs down some more whiskey in the long fake grass.
Alice(humming to herself): Hmmm…hmmm… this is the end…. my only frie-nd THE END!….
BUZZ
Her phones buzzes.
Alice turns her head to her phone…
It says FIGHT NYC has Messaged You.
Alice gets up in anticipation. She looks at her phone, closes her eyes before opening the message.
She sees the message.
Alice: FIGHT NYC has accepted your contract. Congratulations, Alice.
Alice kip ups to her feet and begins shouting out loud.
Alice: HOOT! HOOT! HOOT! I GOT THE JOB! HOOT! HOOT! HOOT!
She does a cartwheel and a cabbage patch dance before suddenly stopping. She holds her stomach.
Alice: Oh no…
Alice begins dry heaving and just as she throws up the camera cuts to a card that says "Technical Difficulties"
THE ALWAYS HAPPY LUV VARIETY SHOW HAS BEEN CANCELLED!